Call 07713 459 665 To Sign Up


Be Efficient.
Cuts out repetitive work and within a few minutes you can be sending invoices or quotes with your own logo, colours and business information.

Be Organised..
All your invoices and quotes in one place manageable using nearly any device giving you the flexibility and freedom to manage your billing anywhere, anytime.

Join Now...
Joining is easy and you can be sending invoices and quotes in just a few minutes.

Easy to Use
We have made Monkey Invoice really easy to use. Using it ourselves we turn any ideas or helpful features we need into reality and working with feedback ideas from our members ensures we give everyone the very best accessibility whilst keeping simplicity paramount.

Monkey Invoice offers an intuitive button layout and simple to use but vital functions that enable you to get all your invoicing and quotations done quickly.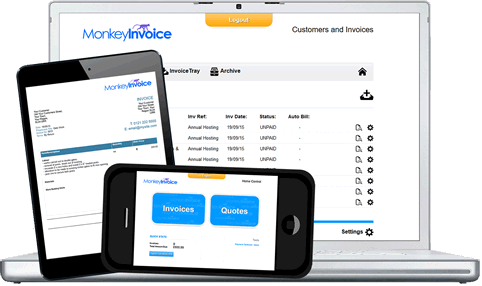 Accept Card Payments and Send ePay Invoices
Accept money from anywhere, anytime with our built in payment processing gateway, easily add your PayPal email address to your account and send customers invoices with payment links allowing them to pay your invoice online in just a few clicks using any type of debit/credit card/PayPal account.

With a one click customer detail auto-fill form you can be taking card payments instantly, and with the added benefit of no set up or monthly standing charges.
Why Choose Monkey Invoice?

Straight to the Point
Monkey Invoice keeps your quotes and invoices at your fingertips, whenever and wherever you are. Stay up to date with live notifications, easy to use functions and an easy to use interface.

We Use It Too
As a small business we developed Monkey Invoice to streamline our own billing processes. Once we realised how brilliant it was, this was the start of the creation of Monkey Invoice.

Save Money
In business when time equals money, monkey invoice is a huge saver. Also save on printer costs too as all our invoices and quotes are sent electronically making your billing process as efficient as possible.
Tell a friend on Facebook